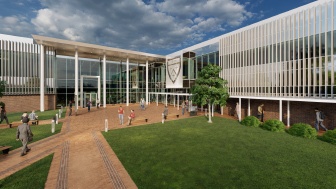 The Long Island Campus Student Center Campaign is off to a strong start.
The new $17 million Student Center at St. Joseph's University's Long Island campus in Patchogue boasts more than 32,000 square feet over two stories. The building will provide a central hub for Student Life and a home away from home for more than 3,000 undergraduate and graduate learners, as well as areas for faculty, staff, friends and partners within the community to enjoy.
Framing the northern end of a quad with O'Connor Hall, Callahan Library and the Danzi Center, the Student Center will feature indoor and outdoor spaces, looking out across campus and views of Patchogue Lake to the east.
A combined financial strategy — including a bond issue, institutional resources and the proceeds from a $3 million capital and endowment campaign — will help fund the Student Center, the first new construction at on this campus in 18 years.
We welcome gifts dedicated to the construction, as well as the establishment of a new facilities endowment, which will help ensure long-term fiscal strength and sustainability, as the University prepares for continued improvements.
St. Joseph's invites alumni, friends, parents, faculty, staff, and community and business partners of the University to join us on this exciting journey. We look forward to sharing this new Student Center with you.
Naming Opportunities
Student Center Campaign Goal $3,000,000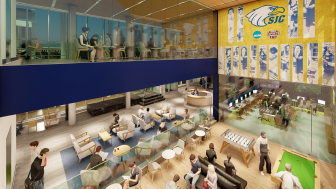 The two-story 32,000 square-foot multimillion-dollar Student Center will include a dining area, art gallery, new chapel and office for campus ministry, veterans lounge, spirit gift shop, E-sports unit, computer and lounge spaces, conference and meeting rooms and offices for faculty, staff and student clubs.
We welcome donations from our alumni, friends and partners and invite a conversation to shape your philanthropic support for the Student Center. Numerous giving options and naming opportunities are available.
First Floor
Art Gallery

The arts have always held a vital role in a liberal arts education, and they are a cherished part of the St. Joseph's University campus culture. We are excited to welcome a new 500-square-foot art gallery, filled with natural light and prominently visible on the first floor of the Student Center.

The gallery will feature works in a variety of media from local and guest artists, as well as our annual student exhibitions and senior showcases, and bi-annual faculty shows. This will be the first purpose-built arts display space on the Long Island campus and will further enable the exhibition of digital arts and media, as well as visual media and sculpture.

Moreover, the gallery space will host opening events, artist talks and gatherings, supporting the vibrant community of artists and art enthusiasts on our campus and in the neighboring community. Our students will have the opportunity to take part in the staffing of a gallery and the production of exhibits, providing unique access to the many varied aspects of a life and career in the arts.

Naming Available

Anna Malzone

Director of the Council for the Arts

"We are so excited to add a beautiful new dedicated gallery space to our community. This will allow us to showcase our talented faculty and students, as well as guest artists and community partners in a whole new way."
E-Sports Space and Student/Game Lounge

One of the most popular and fastest growing areas on college campuses, esports offers students the chance to enjoy some competition and camaraderie. St. Joseph's is proud to support our new team as they compete online and represent the Golden Eagles in intercollegiate tournaments and leagues. In addition, esports is a great spectator activity and will provide a fun and exciting addition to the student spaces in the Student Center. Centrally located on the first floor, with glass viewing access to the rest of the facility, this new dedicated practice and competition space will showcase one of our newest and most dynamic activities. The first floor also boasts a new lounge to meet up with friends and pass the time before, between and after classes with a variety of games and activities. We know that casual time with friends on campus leads to lasting memories for our alumni, and the Student Center will open new doors for those valuable moments.

Naming Available

Esports Lounge: $200,000
Student/Game Lounge: $500,000

Andrew Capitelli

Manager of Athletic Communications

"Esports is one of the fastest growing areas for team camaraderie and competition on campuses across the country. We are proud to support our growing new sports team and players, and showcasing their games in this new space is a wonderful addition to our program."
Indoor and Outdoor Dining Facilities

Grabbing a bite to eat and finding a good spot to sit has never been easier or more pleasant for students, faculty and staff than with the spacious 8,000-square- foot dining facility at the heart of the new Student Center. With multiple seating areas and scenic views of Patchogue Lake, this new dining space will provide a natural home for our students, between classes and before club meetings and team practices. So many of our students travel between home, campus, and their jobs and internships as part of their daily routine; having a vibrant new space to meet up with friends, study for a test or collaborate on group projects will make all the difference in their college experience. Additionally, there will be a dedicated space for faculty dining. The dining area will proudly feature a variety of food options, including local providers.

Naming Available

Indoor and Outdoor Dining Facilities: $1,000,000

Shantey Hill

Vice President for Student Life and Campus Services

"For our students and our campus, a dining facility is much more than aplace to eat — this will become the best place to gather with friends, unwind,plan activities or even find a cozy corner to catch up on work and study".
Multi-Purpose Room/Event Space

Easily accessible on the first floor of the Student Center, a new 2,000-square-foot multipurpose and event space provides vital opportunities to host a plethora of events, as well as invite community partners and visitors onto our beautiful campus. This multi-use room will provide dedicated space for admissions to showcase all that St. Joseph's University has to offer to prospective students and their families. It will also support a robust calendar of cultural and informative events, lectures and student programming, as well as large group gatherings. Such possible events include the Universtiy's annual Study Abroad Conference and Student Research Symposium. This space will help
situate the University as an anchor of the regional community.

Naming Available

Multi-Purpose Room/Event Space: $500,000

Janelle Hill

Associate Vice President for Student Life

"This new Student Center will be a showcase piece and become the heart of our University. Having flexible event space for admissions, clubs, lectures and community partners will be a huge asset for our campus."
Second Floor
Chapel/Campus Ministry

On the second floor of the Student Center, a new chapel, office and meeting space will serve as home for Campus Ministry and worship services on campus. Through our community outreach and reverence for the sacred, St. Joseph's University Campus Ministry participates in the creation of a world with respect and dignity for all. Together, we help instill integrity, service, social responsibility, intellectual rigor and spiritual depth into the University community.

The new 900-square-foot chapel serves as a tribute to the Sisters of St. Joseph, who have guided the spiritual and educational vision of our University from its founding. At twice the size of the current facilities, it increases the capacity to celebrate Mass, provides space for fellowship and events, and strengthens the ability to invite our neighbors from the community onto campus. This space will also provide an interfaith room for prayer, meditation and gatherings, as well as a new office for Campus Ministry.

Naming Available

Chapel: $300,000 (In Progress, Honorific)
Meeting Room/Interfaith Reflection Space: $75,000

Cristian Murphy

Director of Campus Ministry

"Having a space for worship and community is vital to Campus Ministry, and with this new Student Center we will be able to join together in wonderful ways. We can't wait to welcome everyone to the new chapel, interfaith space and Office of Campus Ministry in the near future."
Veterans Center

St. Joseph's University has been recognized for its commitment to veteran students by the Military Times and U.S. News & World Report. We provide flexibility and partnership, offering courses online and on campus, as well as at military installations, including Fort Hamilton in Brooklyn, Fort Wadsworth on Staten Island, the Jones Beach Coast Guard Station in Freeport, SFO Moriches in East Moriches and the Shinnecock Coast Guard Station in Hampton Bays. We are a proud participant in the Post-9/11 GI Bill® Yellow Ribbon Program, and we are pleased to have a special tuition discount for veterans. Now, our veteran and active military students will have a new dedicated space of their own, to meet, study, and host events and gatherings. The Veterans Center, with 450 square feet of multi-use space on the second floor, is the appropriate and highly visible recognition of all that these students have done for us and bring to our community. The Student Center will also host the programs and work of the Student Veterans Association.

Naming Available

Veterans Center: $200,000

Erin D'Eletto

Director of the Office of Military and Veteran Services

"Having a new, updated space dedicated for our student veterans inthis new facility is a real gift. Our veterans are a close community andvalue time together to work, relax, and connect and support one another."
Student Life Suite

College isn't just about academics. It's also about exploring — learning more about yourself while trying new activities and understanding different ideas and perspectives. Student Life supports the mission of the University through programs and activities that prepare our students for a life of integrity, intellectual rigor, spiritual depth, social responsibility and service. A new 1,500-square-foot Student Life Suite will provide new meeting and office spaces for numerous groups, including Student Involvement, Leadership and Intercultural Engagement; clubs and organizations, including club sports teams; Career Preparation and Professional Development; Counseling, Wellness and Student Health Services; and Orientation and Student Services. Student Life also guides and directs the Student Government Association (SGA), Campus Activities Board (CAB), Greek life and over 40 academic, cultural and service-related student clubs and organizations.

Naming Available

Student Life Suite: $250,000 (Named)
CAB/SGA Offices: $100,000
Individual Student Club Rooms (6): $25,000
Individual Staff Offices (7): $50,000

Bryan Gill

Executive Director of Student Involvement, Leadership and Intercultural Engagement

"The SGA, CAB and all the great clubs at the Universtiy are the heart of campus life for our students. The flexible and abundant meeting space will create a new home for student activities and will further enhance our ability to serve all our students."
Faculty Offices and Classrooms

Our University and our campus is growing. To best meet the needs of our students and faculty, the Student Center also includes five new classrooms, featuring state-of-the-art smart technology and the ability to support remote learning opportunities and colleagues on our Brooklyn campus, in addition to seven new faculty offices and a computer lab, which will support student work and collaboration. Located on the second floor, more than 5,500 square feet of new workspace will enhance the capacity of our faculty, student and academic programs, including new and growing degree programs in education, social work and nursing, as well as many other departments.

Naming Available

Individual Faculty Offices (7): $25,000 – $50,000
Individual Classrooms (5): $75,000

Robert Riley, Ph.D.

Provost and Vice President for Academic Affairs

"We know that our students enjoy spending time together, working, problem-solving and connecting with their studies and faculty. Having new classrooms, lounge and computer room spaces available to them is vital to continuing to build on the teaching and learning environment at St. Joseph's."